I have very thick hair that can sometimes be very hard to manage, Afrobotanics made my hair more softer and healthier. It's easier to manage and the growth has been amazing. It's the moisture for me ❤️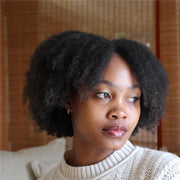 "Afrobotanics hair products have been there for me since i started my natural hair journey five years ago, they have natured my hair back to growth and health, defined my coils and kept my scalp healthy as well. I recommend the hair products to people daily cause Afrobotanics hair products results do not disappoint."

" I have been using Afrobotanics products for 5 years now and it has done wonders to my hair. I started my natural hair journey in 2018 and my hair has never been more healthier and stronger with the help of the products. Afrobotanics has made growing and taking care of my hair a wonderful experience to the point where I recommend them to everyone I encounter because the products have played such a significant role in the growth of my hair."